Which starter kit is best for you?
Before we get started, why not try our handy starter kit quiz! This will help guide you to your ultimate set up, with questions generally asked by our in store experts to help guide our customers to the perfect set up! This quiz is designed for complete beginners and if you purchase the recommended kit, you will increase your chances of getting off cigarettes completely and making the big switch to vaping successful!
Try it out and continue to read on about more information on our other amazing vape kits!
If you're new to the world of vaping, the vast array of options available can be rather overwhelming. Every other word you see seems to be technical, specific and complicated, and if you don't know the difference between an Ohm and a tank or a mod and an e-liquid, you may have a bit of trouble at first. You can check out our Vaping Glossary to shed some light on the jargon, but if you want to know simply and quickly what you should buy as a complete beginner, you have come to the right place!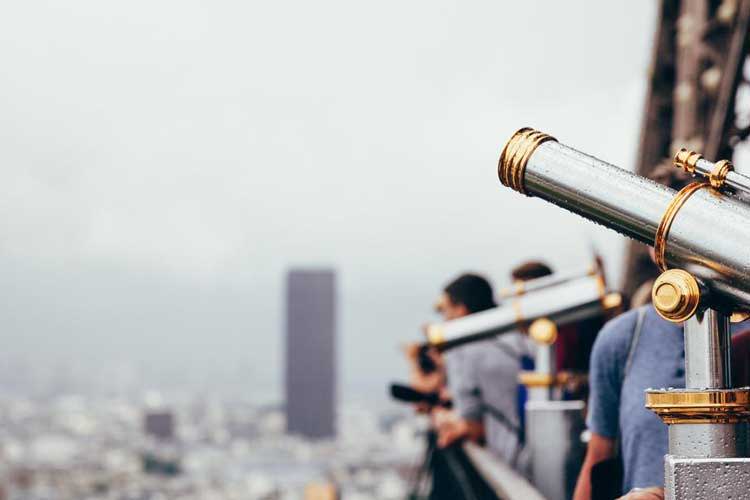 What should I look for in a Vaping Starter Kit?
What new vapers will primarily be concerned about when choosing their first vape kits are: cost, ease of use, and appearance. If you're overwhelmed by the options on offer, simplicity is key – avoid getting bogged down in the complexities of modifiable and customisable options, and instead stick to something easy to use, easy to maintain, and easy to understand. You can always, of course, upgrade later but it is best to start out with something simple.
How much will a starter kit cost me?
The cost of a vape kit ranges from £20 to around £80, depending on the style or brand you choose. If you're looking for something slightly more advanced, you can spend up to £100 on a vape kit, but as a newbie, you'll need to be prepared to spend in the region of £20-60. You'll also need to consider the cost of the e-liquids moving forward.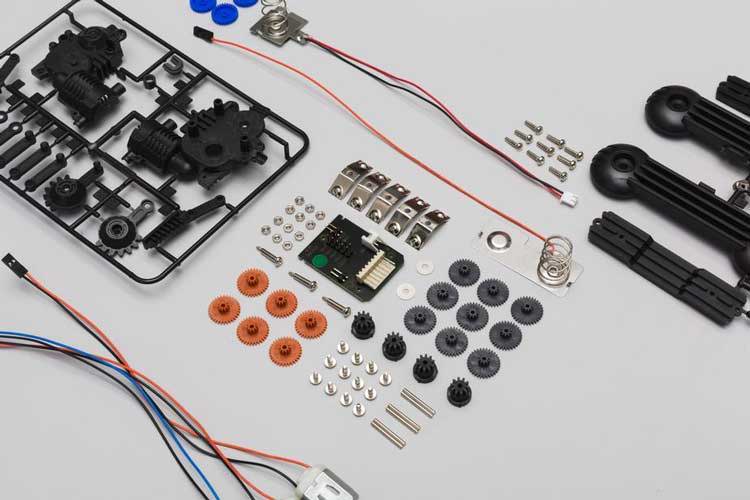 Do I need to have the technical knowledge to start vaping?
No. While long-term vapers will tend to have a good working knowledge of Ohms Law, Joules Law, etc., as a beginner this is unnecessary. There are many good starter kits available with simple, easy to understand instructions, so there is no need to be an electrician or a rocket scientist to get started. If you want to progress and vape the largest cloud possible, you will need to do some research, but there is no need to have intimate knowledge of the technical features of vaping when starting out.
Understanding your own needs!
Lots of smokers underestimate exactly what they need to get off cigarettes. We've found that many smokers want as low nicotine as possible, or focus of the vape mod that will give them the biggest vapour production. Going about finding a kit this way will reduce the effectiveness of it and make it harder for you to quit cigarettes.
For example many smokers on a pack a day would do best with a pod mod and a 20mg saltnic, this will give them the nicotine they need to ensure they don't revert to cigarettes, you can always have a mod to throw big clouds as well. Your life style always plays apart too, battery life, tank size, all play a part in find the absolute ideal kit for you.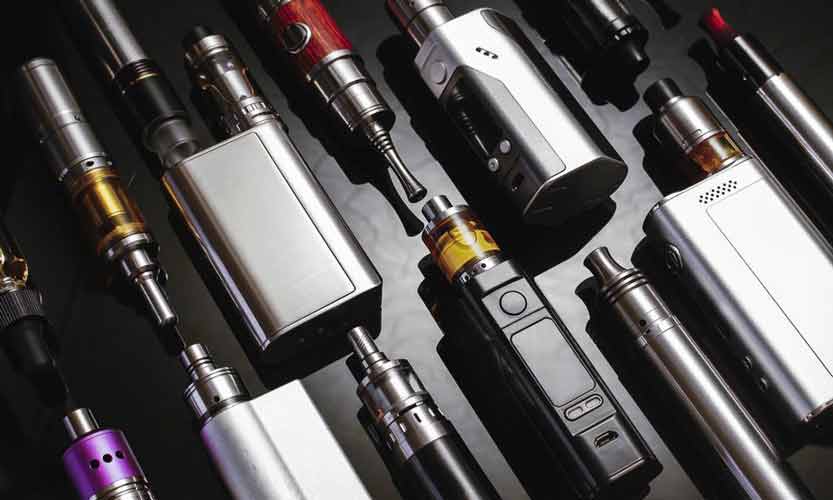 What's the difference between different types of kits?
There are many e cigarette kits you can buy, each type will suit a different person due to their smoking habits, their lifestyle or just their personal preference. Vape kits can come in a few types, some of the most popular are:
Pod Mods - Super compact kits designed for high nicotine

Starter Kits - smaller kits with larger battery life, for use with high nicotine strengths

Advanced Kits - Larger kits, with much higher battery life and plenty of power

Rebuildable kits - High powered kits, with rebuildable atomizers.
Why should I choose a ecigarette?
If you are a traditional smoker and your goal is to gradually reduce your nicotine dependency, then you may be tempted to start out with a basic e-cigarette. E-cigarettes can provide you with the nicotine you want without the smoke, so understandably many former smokers start here. E-cigarettes are smaller, generally cheaper, and more discreet than vaporizers, so why would you choose a vaporizer instead?
The answer is that vape mods provide a much smoother nicotine hit and, in the long run, are cheaper. While you generally can't mix and match between brands of e-cigarettes and e-liquids, you can with a mod: and once you delve into the world of e-liquids, you'll find there is an almost endless choice of flavours and nicotine strengths available.
If you're looking to reduce your dependence on nicotine, you can start on a higher concentration and gradually reduce to lower levels, and eventually switch to 0% nicotine liquids. Vape mods produce a much smoother and more enjoyable nicotine experience than e-cigarettes and if size is an issue, there are vaporizers available that are a little bigger than a marker pen – take this Smok Stick AIO Starter Kit as an example.
Not to mention E-Cigarette kits are almost 95% percent safer than traditional cigarettes according to public health England.
What's the best vaping device for beginner vapers?
New vapers should start with something simple and not too complicated. Avoid the complexities of mods and customisable atomizers and start with a basic, easy to use kit. If you're not sure vaping is for you, save your money and go for something simple. More advanced devices will outperform the basic options when it comes to battery life and customisability, but if you're just starting out there are good beginners' options available.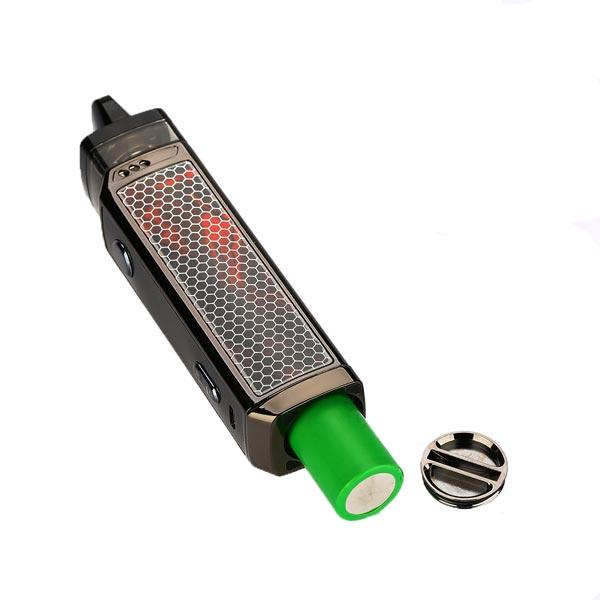 The VooPoo Vinci X is an excellent place to start a super compact kit that takes salt nicotine and has enough kick to help anyone off cigarettes permanently!

Only £39.99

Easy to use, no fuss filling, and replacing pods

Rechargeable with larger battery for a pod

Works with sub-ohm coils and MTL coils

Super compact design with 70w of power!
Another solid option for beginners is the Smok R-Kiss kit – this is a sub-ohm dual battery device that looks great, performs amazingly well and certainly won't break the bank. If you need something with a bit of kick then this is the kit for you.

The R-Kiss has a 15-second auto cut-off mechanism, charging short-circuit protection, atomizer short-circuit protection and over-charge protection. With 200w of power and a huge battery life thanks to its dual 18650 capacity.

Although this kit is a little more advanced than others, its brilliantly priced, easy to get to grips with and provides a consistent flavour full vape, deal for those who don't have much success with small lower power devices.

Only £29.99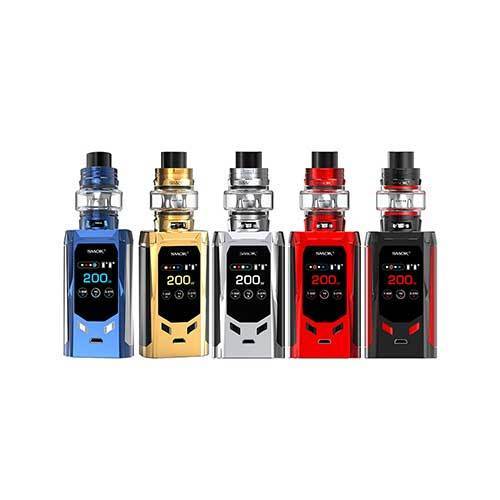 The Lost vape Orion Q has been a staple vape kit and one of our best sellers in 2019.

A brilliant vape kit, that looks incredible, perfoms as good and is designed for use with Salt Nicotine eliquids. This enables the user to vape 20mg e-liquid without any discomfort or harshness. Making it the most effective way to get smokers off cigarettes

The Orion Q is available in multiple options; including the new Orion-Q Pro, Advanced model Orion DNA, and the budget Orion Q

Starts from only £29.99

 
What's the best vaping device for advanced vapers?
For the advanced vapers among you, the key to finding a good vaporizer is to understand in more depth how vaporizers work. You'll need to have a good knowledge of Ohms Law and Joules Law and the risks associated with rebuildable devices – if this sounds like you, then you'll be looking for a high power regulated mod and a high-wattage sub-ohm clearomizer.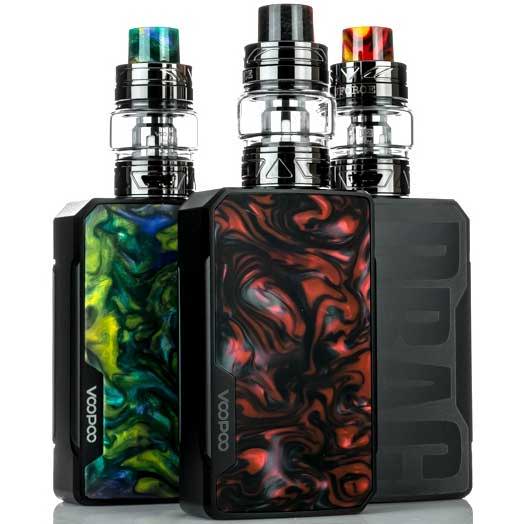 The Voopoo Drag 2 Kit is one of the most popular this year, it ticks all the boxes for the advanced vaper, with one of the best chip sets of any box mod ever this device will power through anything! Advacned features and massive power will enable you to use this mod with any tank. It also comes complete with its own tank the Voopoo UFORCE designed to provide excellent flavour and massive cloud production.
What's the best vaping device for expert vapers?
If you're old-hat at the vaping game, the key to progressing your vaping experience is to enter the world of mods and customisable devices. You'll need to have an expert knowledge of how devices work in order to stay safe, but if you're confident in your abilities then the mod-world really is never-ending.
- Revolver Reloaded 2 Kit
If you're looking for something stylish, the Revolver Reloaded 2 will turn heads all day long. A brilliantly built, original design, the Revolver Reloaded 2 is rife with advanced features and customisable parts. It even has a 24ct gold-plated chamber for a luxuriously smooth vapour, and ceramic insulation to preserve flavours even under high temperatures. The kit requires custom coils to be installed, so this kit is reserved for expert vapers!
We also stock an amazing array of accessories, from replacement glass, to spare parts, and essentials like batteries and coils, we even stock a range of gold plated Atom Coils.
But remember these are just our suggestions these won't be ideal for everyone, they may be something better for you, make sure to check each kits description of spec list to see if those features suit you more, alternatively simply call us or leave us a message and we'll be glad to help out!
Whatever your preference, we have a huge range of starter kits that will suit your taste and your budget.
---
Author: Taz Dean
Taz Dean has had a ten year career in the vaping industry. He has helped build business', develop products and create e-liquid lines globally. As an ex smoker, avid vaper and vaping advocate, he has years of knowledge and experience on aspects of the vaping industry, from the shop floor all the way to distribution . This unique insight helps with his unique perspective and engaging informational content.