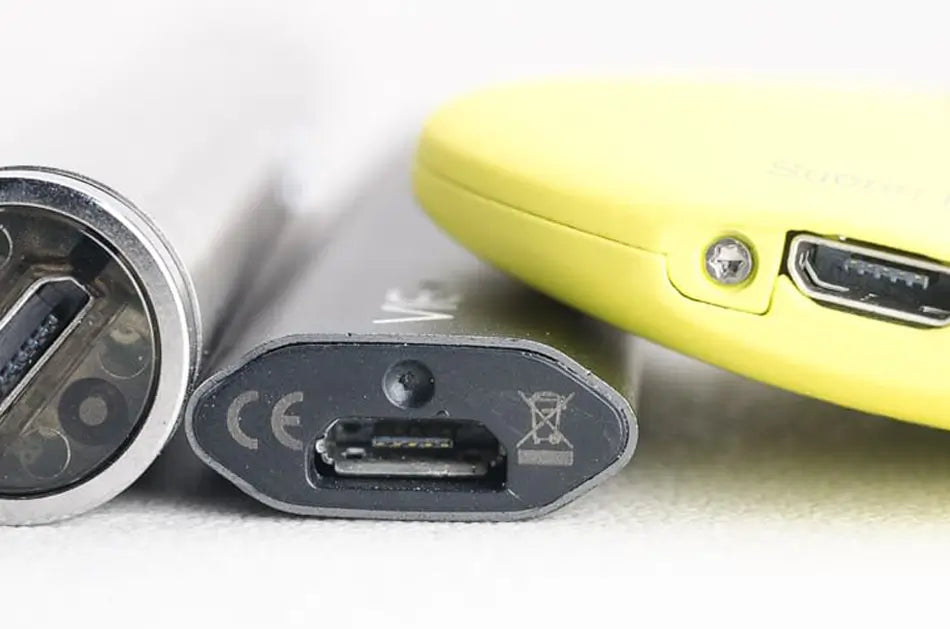 Battery safety when operating an advanced vape device is essential, both in order to maintain the condition of your e-cig and get the most out of it; as well as keep yourself and those around you safe. Although the risks in using 18650 batteries is minimal, that doesn't mean there aren't any risks whatsoever. As with the majority of electronics, vape batteries can pose a risk if used incorrectly or damaged.
Contents:
What is an 18650 battery?

Are 18650 batteries rechargeable?

18650 battery vs AA – What's the difference?

How do I know what 18650 battery is the best?

Why use an 18650 vape battery?

Battery Safety – The Dos and Don'ts

Can Vape Batteries Explode?

How often should you replace vape batteries?

How much are 18650 vape batteries?

Where can I buy vape batteries?

Are 18650 batteries safe to travel with?

Where can I recycle 18650 batteries?

Calculating 18650 battery voltage
What is an 18650 battery?
An 18650 is a type of battery that is used predominantly in advanced vape devices; it's both rechargeable and also removable. These batteries are sometimes known as "external batteries", due to the fact that they give you the option to charge your batteries in an external vape battery charger, rather than having to charge them through the device itself.
Are 18650 batteries rechargeable?
Yes! As we mentioned previously, 18650 batteries are removable and rechargeable, which is one of the many benefits to using them. For example, if your vape battery stops functioning correctly, you can remove and replace it, rather than having to purchase a new vape, which would be much more costly!
Another advantage to using external batteries is that if the charging port on your e-cig breaks or is damaged, you can remove an 18650 battery and charge it separately using an external vape battery charger. Which is also a much more efficient method of charging your batteries!
18650 battery vs AA – What's the difference?
Are 18650 batteries the same as AA? An 18650 battery is bigger and more powerful than an AA battery – the first 2 numbers indicate the width of the battery (18mm), and the last 3 numbers refer to the length of the battery (65.0mm). Aside from the physical size and appearance being different, 18650 batteries also have a larger mAh (MilliAmp per hour), voltage and amperage than AA batteries.
However, 18650 batteries aren't the only vape batteries on the market; other common batteries used within vapes are 20700's, as well as 21700's.
How do I know what 18650 battery is the best?
Choosing which 18650 battery to buy can seem overwhelming, as there are a number of different factors to take into consideration; but it's actually pretty simple. Although, it's always best to check the manufacturer's guidelines, as they'll often recommend a specific type of battery within the user manual.
One of the first things you'll need to think about is the mAh of your battery (MilliAmps per hour) this is a measurement of how long you can use your battery for before you have to charge it again. The more mAh that your vape battery has, the larger it's capacity, and therefore the longer it will take to drain; for instance, an AW 3500 mAh vape battery would last longer than a 2600 mAh Molicel battery. A battery with a larger mAh capacity is what we'd recommend to those using MTL (Mouth-to-Lung) devices, as usually with a higher
mAh, comes a lower Amperage. This makes them ideal for MTL devices that are relatively low wattage and don't require a lot of power.
The second thing you'll need to consider when deciding which 18650 battery is best for your device is the Amperage (A.K.A Amps). The amps of your battery decide how much power your battery can supply, so a higher amperage is better for delivering more power to your device; this is important if you'll be using a more powerful vape, such as a Sub Ohm/DTL (Direct-to-Lung) device. If you use a 18650 battery in a powerful vape, such as a sub-ohm device, that has a low amperage, your battery is likely to become hotter than it'll be straining to provide the amount of power that you'll be using. 18650 vape batteries with a higher amperage also charge quicker than those with a lower amperage.
Why use an 18650 vape battery?
18650 batteries are an almost universal vape battery. They fit almost every e-cig that takes external/removable batteries, and are incredibly reliable when used correctly and treated well. There are also a lot of advantages and benefits to using 18650 vape batteries.
Battery Safety – The Dos and Don'ts
DON'T expose your battery to water or any other liquids.

DO store your battery in a plastic case when it isn't being used.

DON'T use batteries that show signs of damage – if the batter wrap is damaged, torn or discoloured, cease use immediately.

DO buy your batteries from a legitimate store or company.

DON'T store or expose your battery to extreme temperatures.

DO check the amp and voltage limits of your battery before using it.

DON'T allow batteries to come into contact with keys, coins, or any other similarly conductive materials.
Can Vape Batteries Explode?
To put it simply, yes! However, the chances of your 18650 vape battery exploding, when used correctly, are minimal. For instance, just as you wouldn't use your electronics in the bath, similarly, you shouldn't expose your 18650 battery to water or any other liquid. If you follow the rules that we've laid out above, there shouldn't be any cause for concern!
How often should you replace vape batteries?
We'd usually recommend that you replace your vape battery approximately every 12 – 18 months, so long as it's been used correctly. This is the period in which you'll likely begin to notice changes within the vape battery; such as it taking longer to fully charge, or that it's draining quicker and having to be charged more frequently. These are the most common ways that you can tell if your vape battery is going bad.
How much are 18650 vape batteries?
The price of a vape battery can vary depending on where you purchase it from. As well as the brand of the battery that you purchase—but for an 18650 vape battery, you should be looking to spend an average of somewhere between £5 – £8.
Where can I buy vape batteries?
You can purchase 18650 vape batteries from almost any reputable vape company online. Most vape stores sell these batteries too. Always remember to make sure you're purchasing from a legitimate company to avoid receiving counterfeit or unsatisfactory goods.
Are 18650 batteries safe to travel with?
Travelling with batteries can be a hassle, as airport security may require that they be removed from your carry-on luggage and placed in a separate bin for X-ray screening. However, there are a few simple steps you can take to make sure your batteries stay safe and secure during your trip. First, make sure that all loose batteries are securely packed in a hard-sided container. This will prevent them from shifting around and potentially coming into contact with metal objects that could cause a short circuit. Secondly, it's a good idea to keep a copy of your battery's safety data sheet with you when you travel, as this can be helpful if airport staff have any questions about your batteries. Following these simple tips will help ensure that you can enjoy a hassle-free holiday with your batteries in tow.
Where can I recycle 18650 batteries?
Most people are now aware of the importance of recycling. However, when it comes to recycling lithium-ion batteries, there is still a lot of confusion. Many people assume that they can simply put their old laptops, phones, and tablets in the recycling bin, but this is actually not the case. The only safe way to recycle lithium-ion batteries is to take them to a qualified electric and electronic recycling centre. At these centres, the batteries will be properly disassembled, and the valuable components will be reused or recycled. So if you have any old devices that you want to get rid of, make sure to look up your nearest recycling centre.
Calculating 18650 battery voltage
If you're interested in calculating the voltage you would need to use with your 18650 vape battery, there are many websites online that will do this for you; however, if you want to do it yourself, it's important that you know your Ohm's Law.
Ohm's Law is one of the basic laws of physics that explains the relationship between Voltage, Amperage, and Resistance.
I=V/R
(I) represents the Current (In this case Amperage) (V) is the Voltage
& (R) is the Resistance
So to calculate the Voltage that you would need to use with your vape battery, the formula is V=IxR
This means that you would need to time the Amperage of your 18650 battery by the resistance of the coil that you're using on your device. You can use the battery calculator below from Omni Calculator.
You can browse our selection of tested industry standard batteries.
For more information on battery safety, and safe recycling of batteries, visit the following links.
https://www.osha.gov/sites/default/files/publications/shib011819.pdf

https://www.nfpa.org/-/media/Files/Public-Education/Resources/Safety-tip-sheets/LithiumIonBatterySafety.ashx

https://greencitizen.com/blog/lithium-ion-battery-recycling/#:~:text=The%20only%20safe%20way%20to,consoles%2C%20laptops%2C%20or%20tablets

.