The VOOPOO DRAG X pod is packed with a host of features and settings. Firing up to 80W with a single 18650 battery, the  X can handle cloud chasing with ease, whilst still remaining accessible to newer vapers.

The DRAG X uses the GENE.TT chip, which can activate coils in 0.001s in addition to managing the large colour screen. With a has a soft leather grip and a USB-C charging port for more efficient fast recharging.

The DRAG X pod tank is designed to be easy to use, whilst retaining features found on regular tanks. A fully adjustable airflow can be fine-tuned to your personal preference, plus the push-fit PnP coils make replacements quick and easy. Multiple ohm options are available, with 0.3ohm mesh and 0.2ohm mesh coils included.

The VOOPOO DRAG X offers a definitive vape pod experience. It is easy to use for new vapers, but packed with as many features found in more advanced devices, making it the ideal vape pod kit for almost any vaper.
Features;
Battery: Single 18650 (NOT INCLUDED)
Max Wattage: 80w
PNP Coil Compatable
USB Type C Charging
Colour Screen
Fast Firing
Adjustable Airflow
2ml Capacity
Package Contents;
1x Drag X Pod Kit
1x 0.3ohm PNP COil
1x 0.2ohm PNP Coil
1x Type C USB Cable
1x User Guide
Write a Review
We verify all reviews are genuine. Please make sure your read our review policy before leaving your review.
Customer Reviews
Write a Review
Ask a Question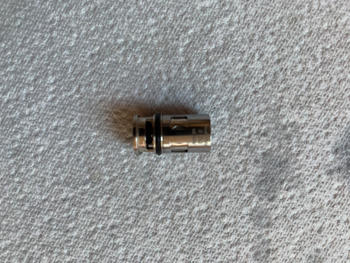 06/21/2020
Voopoo Drag X
The mod is great and the pod system is the only issue I had was both coils that came with the kit had defects. The was no holes in the coils to get to the cotton (see picture) apart from that really good
Robin R.
United Kingdom
07/15/2020
Love it
Quality build and awesome design that suite IMO all ages and genders. Very comfortable in the hand and lightweight. The tank is nice and easy to work with, and it does produce better flavour and clouds than Vinci due to circle drip tip and it's close to the coil. Battery life is the best for single 18650 so far, Gene TT chip seems to not require a lot of wattages to produce a satisfying vape, I tend to vape between 10 to 20 watts, which depends on which coil I'm using.
Mustafa Q.
United Kingdom
07/08/2020
Great product
Best value vape product I purchased. Easy to use, doesn't leak, coils last, good flavour, fully charged 18650 3000ma lasts a good time in this
Chris
United Kingdom
07/05/2020
Drag X
Very happy - ordered midday Fri, arrived 4pm Sat - impressive! Now only Sunday, Drag X has already become the fav vape. The .15 coils appear to be blocked/ have no holes, there not, and work great, Though you will go through an 18650 bat quickly. Gone for the .3 coil, really nice smooth vape and a good hit. The .15 coil are good, just needs a bigger battery capacity. The Drag X in Carbon Fibre looks great, and feels even better in your hand, well happy I decided on this one.
Paul W.
United Kingdom
07/05/2020
Great all rounder.
Excellent build quality, good selection of coils. Vape quality and flavour is good enough for most.
Daniel S.
United Kingdom