asMODus Minikin V2 Colour Screen Kodama Edition
Stabilised wood Minikin v2 Colour Screen Kodama Edition. Please not due to nature of Stabilised wood finished may vary slightly.
The latest Minikin V2 180W Touch Screen by asMODus features the new, more battery- efficient, GX-180-HT chipset, a touch screen and a USB port for firmware upgrades, while the ergonomic design of the body makes it comfortable to handle.   
The Minikin V2 180W has a new maximum cap of 180W in wattage mode and 120W in temperature mode with a temperature control range of 100°C to 300°C. The resistance range features 0.1 to 2.5 Ohms.            
The Minikin V2 Kodama Edition, has to be seen to be believed! An absolute stunner and possibly the best looking mod out there today, Finished in a solid polished stablized wood with a brushed stainless face, this mod will set you miles apart from the pack. A true high end masterpiece built around the best box mod available today, the Minikin v2!
Product Specifications:
Display: IPS Captive Touch Screen
New Kodama Stabilised wood edition
GX-180-HT chipset
Upgrade able firmware
Output power range: 5.0 - 180.0 watts
Output power range (TC Mode): 5.0 - 120.0 watts
Temperature control range: 212° - 572°F / 100°C - 300°C
Atomizer resistance range: 0.1 - 2.5 ohm
Max output voltage: 7.5 volts
Peek output current: 45 amps
Charging parameters: DC 5V/1A
2x 18650 sized batteries (not included)
Write a Review
We verify all reviews are genuine. Please make sure your read our review policy before leaving your review.
Customer Reviews
Write a Review
Ask a Question
Filter Reviews:
£221
price tag
standards
kodama
device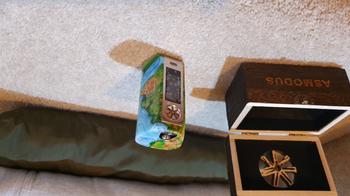 09/03/2019
Asmodus Minikin V2 Kodama Colour Screen (Green Stainless Steel)
This device is brilliant! It hits hard and is accurate and is built to the highest standards. It's worth the £221 price tag all day long! Go buy one you won't be disappointed.
Gary K.
United Kingdom
06/11/2019
Asmous kodama
My second kodama mod, absolutely lovely
09/24/2018
Very nice but..
The box is perfect but is not gun metal or SS but gold...
09/12/2018
Minikin Kodama
Awesome.THX Greyhaze
08/15/2018
Minikin Kodama
Awesome. Fast delivery and excellent service.