Uwell Caliburn Kit 520mAh 2ml Portable System Kit is the first pod vape kit from Uwell. It has an elegant appearance and ultra-thin body. It is powered by 520mAh built-in battery. With air switch design, you can direct vape by inhaling. In addition, if the draw-activated mechanism fails, the system will automatically disable the draw-activated working mode. You can press the fire button to vape. The pod cartridge has a 2ml capacity and comes with a top filling system which can reduce leakage. This pod vape kit is a perfect suit for beginners. 
Features:
Capacity: 2 ml
Battery Capacity: 520 mAh
Size: 110 mm × 21.2 mm × 11.6 mm
Weight: 30 g
Maximum Wattage: 11W
Directly vape or button vape.
Click 5 times to lock/unlock, safe for children.
Draw-activated mechanism fault diagnosis function.
Package Contains:
1 x Caliburn Portable System Kit
1 x Caliburn Pod Cartridge
1 x Micro USB Cable
1 x User's Manual
Write a Review
We verify all reviews are genuine. Please make sure your read our review policy before leaving your review.
Customer Reviews
Write a Review
Ask a Question
Filter Reviews:
flavour
device
price
battery
type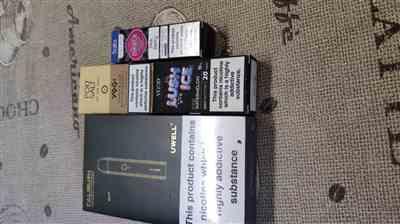 01/11/2020
Simple but perfect.
Small and compact device. With the 1.4ohm coils it produces great flavours for such a small device. 520mah battery seems enough for this coil. I bought this pod because of the great reviews and I'm not disappointed. Huge pro for the draw activated firing.
Ferenc L.
Hungary
06/02/2020
Great service
Always spot on
James E.
United Kingdom
05/16/2020
Awesome
I liked the speed of delivery and the great shipping system you guys have
Abdulmajeed A.
Saudi Arabia
05/10/2020
A good device
I was about to buy a mod but decided to give this a try, im glad i did. -Good flavor -portable- average battery. Will keep using until a new version comes out, hopefully with a bigger battery.
Nayef A.
Saudi Arabia
04/28/2020
Uwell Caliburn
A good choice if you want to quit smoking - very easy to use, fits in a pocket and has got a good throat hit. The battery will easily last through a day. Could be a nice backup option if you DTL - the flavour is however weaker and the hit is "dry" compared to DTL kits.
Mariusz W.
United Kingdom