Uwell Caliburn Kit 520mAh 2ml Portable System Kit is the first pod vape kit from Uwell. It has an elegant appearance and ultra-thin body. It is powered by 520mAh built-in battery. With air switch design, you can direct vape by inhaling. In addition, if the draw-activated mechanism fails, the system will automatically disable the draw-activated working mode. You can press the fire button to vape. The pod cartridge has a 2ml capacity and comes with a top filling system which can reduce leakage. This pod vape kit is a perfect suit for beginners. 
Features:
Capacity: 2 ml
Battery Capacity: 520 mAh
Size: 110 mm × 21.2 mm × 11.6 mm
Weight: 30 g
Maximum Wattage: 11W
Directly vape or button vape.
Click 5 times to lock/unlock, safe for children.
Draw-activated mechanism fault diagnosis function.
Package Contains:
1 x Caliburn Portable System Kit
1 x Caliburn Pod Cartridge
1 x Micro USB Cable
1 x User's Manual
Write a Review
We verify all reviews are genuine. Please make sure your read our review policy before leaving your review.
Customer Reviews
Write a Review
Ask a Question
Filter Reviews:
flavour
device
price
battery
type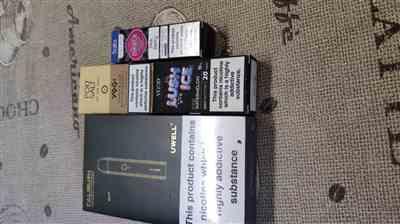 01/11/2020
Simple but perfect.
Small and compact device. With the 1.4ohm coils it produces great flavours for such a small device. 520mah battery seems enough for this coil. I bought this pod because of the great reviews and I'm not disappointed. Huge pro for the draw activated firing.
Ferenc L.
Hungary
05/16/2020
Awesome
I liked the speed of delivery and the great shipping system you guys have
Abdulmajeed A.
Saudi Arabia
05/10/2020
A good device
I was about to buy a mod but decided to give this a try, im glad i did. -Good flavor -portable- average battery. Will keep using until a new version comes out, hopefully with a bigger battery.
Nayef A.
Saudi Arabia
04/28/2020
Uwell Caliburn
A good choice if you want to quit smoking - very easy to use, fits in a pocket and has got a good throat hit. The battery will easily last through a day. Could be a nice backup option if you DTL - the flavour is however weaker and the hit is "dry" compared to DTL kits.
Mariusz W.
United Kingdom
01/15/2020
Best for the size, but not the best
If you're switching from any pre-filled pod system this is the way to go. It will feel like the major upgrade and the running cost is laughable. I made a rough calculation and it comes to 80p a day if you vape 2 ml of expensive liquid a day and change your coil every 10 ml. Coils last much longer in fact, and you don't need to vape premium liquids all the time, so it's much cheaper in real life. It's not perfect though. Auto draw is not reliable, it spits back, leaks and you need to have very strong fingers to refill it. But all things considered it's a good device.
Mikhail
United Kingdom