The Voluna v2 is the the successor to our asMODus Voluna. Becoming a monstrous cloud chaser and providing amazing flavor. The Voluna V2 has upgraded in many ways like ease of building, smoother aiflow control and an easier way to fill your favorite juice. The Voluna V2 will blow your mind with it's cloud and flavor production. This is achieved using a flavor boosting delrin drip tip and new chimney design. The building experience is vastly improved due to it's unique and innovative 2 post lego-like posts making it simple to center your builds, not to mention the amount of space the deck has for those crazy builders out there. 
Features;

25mm Diamiter
2ml Capacity
Flavor Boosting Design
New Improved Build Deck
Smooth Airflow Adjustment
Easy Fill Sliding Top Cap
Package Contents;
x1 Asmodus Voluna V2
x2 Oni Coils
x1 Spare Glass
x1 Accessory Pack
x1 User Guide
Write a Review
We verify all reviews are genuine. Please make sure your read our review policy before leaving your review.
Customer Reviews
Write a Review
Ask a Question
Filter Reviews:
flavour
Asmodus
airflow
deck
machining
wick
VG juice
flavour heaven
chuff cap
coil placement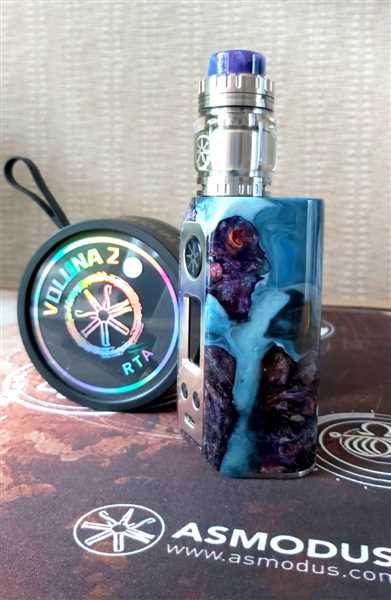 01/26/2020
Asmodus Voluna V2
Very easy to build on, great flavour but the top cap is too loose.
Bruno C.
Belgium
12/22/2019
he is really magical
he is really magical
george b.
United Kingdom
12/12/2018
Flavour ******!
Excellent machining & aesthetically pleasing as you would expect from Asmodus. Super easy to build & wick on with a humungous chuff cap. If you nail the coil placement & wicking you'll be in flavour heaven, had no problems vaping a 90% VG juice. I would have given this RTA a 5 star review but sadly the mediocre juice capacity lets it down and as the Voluna is a thirsty RTA you'll be refilling it on a consistent basis.
Stewart B.
United Kingdom
12/10/2018
Voluna2
This is by far the best RTA I've ever used. The flavour is superb as is the build quality and airflow. The deck is dead easy to build on