The Tac 21 by Squid Industries is an all new updated box mod! With the same luxurious high end feel, and rugged old school design inspired by old school guns of the west!
Now bigger and badder capable of 200w, featuring a full OLED screen compatible with 21700, 20700 and 18650 batteries!
The TAC 21 is a heavy duty, high end vape mod, that one ups our best seller the Double barrel box mod!
Features:
Variable Wattage: 5-200W
Multi-Function Fire Switch! (Adjusts Wattage, Locks Wattage, Power Switch, Flips Screen.)
Reverse Battery Polarity Protection
Overheat Protection
Short Circuit Protection
New Top OLED Display
Wattage Display
Battery Life Indicator
2x 20700/21700 & 18650 Battery Slots 
18650 battery adapter included
Package contents:
1x TAC 21 - 200W Mod
1x Atomizer Spacer
2x 18650 battery adapter
User Manual
Write a Review
We verify all reviews are genuine. Please make sure your read our review policy before leaving your review.
Customer Reviews
10/01/2019
I'm a squid now.
Hands down the best mod I ever had. I have the Double Barrel v3 as well, that is also a great mod, but it's only supporting 25mm tanks and 18650 batteries. The TAC21 supports 28mm tanks and 21700 batteries. The mods are very similar. Tac is bigger a little but compact nonetheless. I really like the minimalist design of this thing, small screen, 2 in 1 button, good grip. Little heavy but it's nearly an all-metal device. I'm not a fan of TC, this mod is only wattage (and bypass) and I don't need much else considering chip features, fires very fast, button is responsive. So yeah I'm very happy with my TAC21.
Máté B.
Hungary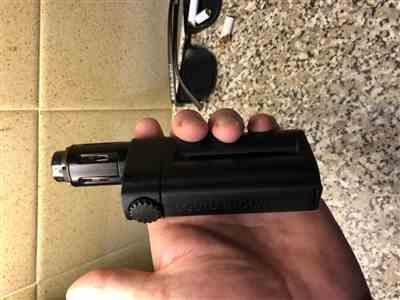 09/30/2019
Excellent mod!
Extremely well made and hits well. Beautifully engineered like all the other squid industries stuff. Matches great with the peacemaker sub ohm. Would highly recommend
Chris P.
United Kingdom
01/05/2020
Solid mod
Very heavy but a solid mod for dual 21700's
Alex C.
United Kingdom
09/06/2018
Its ok, but double barrel v2.1 is better
A very solid basic mod that preforms well, has a bypass series feature which is great as a mech mod but with the added protection. The down sides are the paint gets scratches very easily, and the fire button gets stuck sometimes.. and it reads ohms on any coils ohm 0.04 lower then it really is, maybe its for the bypass series mod protection if you use it later. But Squid Industries is a very solid company!! Double barrel v2.1 is better then this.
08/14/2018
Tac 21
I realy Like this Mod and the Story Behind! The only con ist the Paint Job, some Scratch es after 1 week, Not good!!