Squid Industries Peacemaker RTA 25mm (Single Coil Deck)
You asked for it & Squid Industries have delivered! The PeaceMaker RTA!
This single coil flavour banger is sitting right at 25mm, making it the perfect rebuildable tank for the New Double Barrel V3. The steel cage revolver design fused with the internal acrylic tank makes this tank virtually impossible to break. It's as tough if not tougher as it looks!
Features:
25mm Diameter
Single coil deck (Ceramic Clamp)
Smooth adjustable airflow
810 drip tip
4ml/8ml tank capacity
Package Contains:
1x Peacemaker RTA
1x Bubble glass
1x Spare Parts / tools
Write a Review
We verify all reviews are genuine. Please make sure your read our review policy before leaving your review.
Customer Reviews
Filter Reviews:
flavour
service
greyhaze
haze
taste
liquid
glass
tank
wicking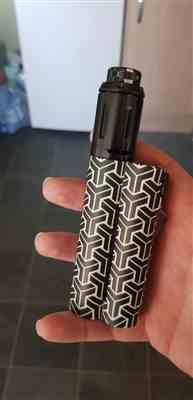 10/04/2019
Excellent
Simple to build on, no leaks & excellent flavour. Looks perfect on the double barrel v3
Grant M.
United Kingdom
10/30/2019
Bullet prof
Awesome single coil rta. Use this for for as I have a nasty habit of dropping mod and smashing the tanks so far this has held up well to the abuse. Pros: bullet prof. Threading is smooth. No leaks even when laying down. That could just be the build. Looks very nice. Cons: no juice control to lock down wile refilling. So make sure you don't fill it to the brim. Or you will have a little juice come out the sire holes after tightening.
09/17/2019
Wow beautiful rdta to go with the mod
Nice tank fits perfect with the double barrel
andy k.
United Kingdom
06/04/2019
Frustrating tank, great service
Firstly, grey haze and the online team are a class act. Perfect service, no hassle returns or refunds. Onto the tank itself.... It looks amazing. Feels really sturdy and when it works the flavour is spot on. Biggest problem I had with the tank was the acrylic cracking all over (I think this is called crazing) and it seemed to happen instantly. It got worse the more I used it. Threading on the top cap was also sub par and got caught a lot. The next issue was stopping it leaking. I wouldn't say I'm a veteran in this department but this is the only time I've felt the need to give up. It either wicked great, flavour great but leaked, or, it dry hit regularly. In about 10 re wicks and coil placement tests I got it to function perfectly once. Then I rewicked and the saga began again. I even got it to dry hit and leak which confused me. It seems to be because of the pressure in the tank. I could get it near perfect and then I'd refill and it would leak again. If you're someone who is an absolute beast at wicking or someone who doesn't mind the feeling of wanting to punch the wall then this would be a great tank. Personally, I'm pleased it had the cracking fault so I could return it and get a dead rabbit. Now that's a great tank. Hope this is helpful.
02/21/2019
Peace maker rta
top service. Hassle free buying