The Rincoe Manto is a dual 18650 battery box mod that can push up to 228w of power.
With a classic style body design the feel of this mod reminds us of the box mods of yesteryear, with solid design, clicky east to use buttons and not a touch screen in sight!
The profile of the mod fits nice in the hand with a center mounted 510 pin and a well placed firing button.
The screen is clear and shows all the important info with superb menu to flick between wattage, temp control and bypass modes.
A nice added modern feature from Rincoe is the addition of a tough external material for durability along with a wide array of built in safty features to ensure a safe but powerfull vape. 
Features;
Maximum Wattage: 228w
Dual 18650 Battery Powered (Not Included) 
Center Located 510 Connection
Side Mounted Controls
Side Mounted Screen
TC, VV, VW and Bypass Modes
Antishock PC Material
Package Contents;
1x Rincoe Manto Pro 228W Box Mod

1x Micro USB Cable
1x User Guide
Write a Review
We verify all reviews are genuine. Please make sure your read our review policy before leaving your review.
Customer Reviews
Write a Review
Ask a Question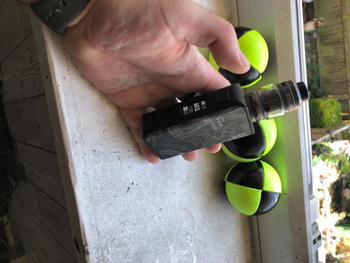 06/01/2020
A proper lil surprise.
I ordered this as A it was cheap and B I needed a replacement for a faulty mod (bought elsewhere) quickly. And I was surprised to say the least. It works well, has all the modes you'd expect with a box today. And hits well too. There are some cons, the 510 sits a teeny bit raised, so no atty will sit flush, and the plastic is a lil teeeeeeeeny bit 'plasticky' but with greyhaze's fast delivery, and reliability, this mods affordability and performance, I'm giving it a five star rating. It got me out of a hole during the 2020 pandemic. And I'm still using my it now over my old, but still functional fuchai 213. Worth the punt. Thank you greyhaze.
Fenris B.
United Kingdom
08/14/2020
Rincoe manto pro
Bought this mod as a cheap fix i was having problems with my usual mods fire button, got to say i didn't expect much for the cheap price but have been really surprised by this mod. It works well on all settings my favourite being TCR the mod is lightweight and has a good feel and grip in your hand. buying experience from Grey Haze could not be better, great communication and delivery in 24 hours altogether a 5 star deal.
Andy B.
United Kingdom
08/12/2020
Great product
Great product lightweight worth the money
Syndal S.
United Kingdom
07/05/2020
nice little mod
good little mod at a good price
steve
United Kingdom
06/06/2020
Great mod!
For the price, it's an absolute 10/10! Been using it for a week solid with a Zeus subohm tank and it's been bang on. Worth the money 100%.