***Comes in single unit, NOT as pair***
New 18650 high drain rechargeable battery from LG Chem.
100% GUARANTEED ORIGINAL CELL. WE DO NOT SELL CLONE BATTERIES, ALL SOURCED FROM VERIFIED DISTRIBUTORS.
This time model HG2 30A continuous - capacity 3000mAh, Maximum discharge current: 30A

The perfect equipment to support all our top e-cig kits, from advanced to beginners we have it all. With new equipment comes to e-liquids and we have you covered there too! 
Specifications:
Model: LG18650HG2

Nominal Capacity: 3.0 Ah | 3000mAh

Maximum Continuous Discharge Current: 20A | 20000mA

Full Charge Voltage: 4.2V

Nominal Voltage: 3.6V-3.7V

Made by LG - South Korea
Operating Temperature (Cell Surface Temperature):
Charging 0 ~ 50℃

Discharging -20 ~ 75℃

Please properly dispose of battery if it gets too hot
Charging:
Recommended Charge Constant Current: 1.5A 1500mA

Lg HG2 can be charged with lower charging current | charging process will take longer.

Maximum Charging Constant Current: 4A | 4000mA

Max. Charging Constant Voltage: 4.2V

End of charge current cutoff: 100mA

Do NOT charge unattended

Do NOT leave unattended after fully charging
Size:
18650

Exact Dimensions: [H] 65.20 mm [D] 18.50 mm (+/- 0.3 mm)

Weight: 47g

Positive terminal: Flat Top

External Electronic Protection: No (unprotected)
Safety Notes:
Do NOT short.
Do NOT leave unattended when charging.
Do NOT leave unattended immediately AFTER charging.
Do NOT carry in your pocket or purse unless they are in a secure non-conductive carry case. 
They are not toys. Do not let your children or pets play with them.
Do NOT recharge with cheap chargers that keep on trickle charging after the normal cycle or that do not follow the Constant Current / Constant Voltage (CC/CV) algorithm properly.  If you have any doubt about the suitability of your current charger to properly charge these batteries, please ASK us first !
Write a Review
We verify all reviews are genuine. Please make sure your read our review policy before leaving your review.
Customer Reviews
Write a Review
Ask a Question
Filter Reviews:
item
delivery
price
service
products
haze
battery
order
comms
spot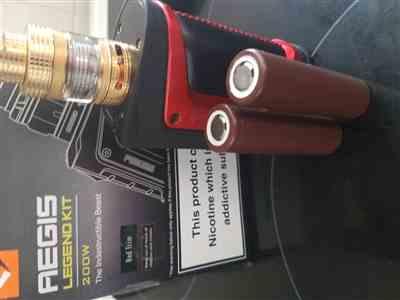 10/03/2019
30A Battery
Came chatged so ready to go and lasted all day in my Aegis legend which far longer than any other 30A Battery very pleased
CM
Carol M.
United Kingdom
02/23/2020
Very Good
Fast quick delivery!
01/25/2020
Batteries
Needed batteries quickly as my old ones wouldn't charge, so really happy when these arrived within a couple of days the last one I got have lasted me a year
CM
Carol M.
United Kingdom
01/18/2020
Amal H.
United Kingdom
01/04/2020
LG HG2 18650
Best batteries on the market been using them a while now much better than other makes and always great service from greyhaze
Andre B.
United Kingdom