TOAST - French; Honey, Cinnamon & Sugar 50ml Short Fill
Love french toast? Well this is based on the best kind!  French; Honey, Cinnamon & Sugar with a toast underlay makinig this an outstanding and delicious vape!
QuickNic Ready = Ratio ready bottle, designed for use with QuickNic, QuickNic sold separately. 3MG is the maximum Nicotine level that can be reached. 50ml bottle; 60ml after QuickNic is used.

QuickNic Ratio Guide:

30ml requires 1/2 bottle of QuickNic
60ml requires 1 full bottle of QuickNic
120ml requires 2 full bottles of QuickNic
The above will result in a 3mg formulation
Write a Review
We verify all reviews are genuine. Please make sure your read our review policy before leaving your review.
Customer Reviews
Write a Review
Ask a Question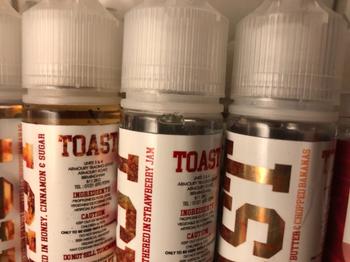 10/25/2019
Very Delicious!
Short but to the point! Very tasty. Personally, for me, I think the tastes of TOAST are the nicest I have ever had. Unfortunately I have never been able to try the chocolate hazelnut, but I think it has been very tasty because it has been sold out for months! But those other 3 are all day vape for me! That's why I have ordered 8 bottles of strawberry jam and 4 bottles of cinnamon and honey!
Martin K.
Netherlands
05/10/2020
Cinnamon lovers will be pleased
All the flavours come through in this blend. The cinnamon is quite pokey but not overwhelming. I like this juice alot and can vape it all day.
samuel F.
United Kingdom
02/01/2020
Awesome flavour.....but....
Strawberry jam on toast is an incredible flavour, love the stuff but wow does this stuff go through coils quickly! I'm by no means a chain vaper but I'm very lucky if i manage 4 days and my coil is burnt out! Would it stop me buying it in future....probably not if I'm honest.
Johnnyreggae
United Kingdom
05/18/2018
Weird
It tastes pretty much like French toast. I get the sweet cinnamon the toast and the final taste of egg, yes folks egg I'm vaping egg. No I'm not it's to weird I'm out!!!
04/11/2018
eh
I mean I could see the interest in this, but the flavor is too much, this was a sort of a gamble as it is so highly reviewed. But the honey flavor is overpowering and after one intake I felt a bit sick. If you're into very honey and sweet bread flavors this one is definitely for you, otherwise i wouldn't recommend it.