The GeekVape Barron is a flavor monster of an RDA, using an internal airflow ring and a locking top cap for minimum leaks and ultimate airflow across the coils. The Barron uses two different airflow options on the inner ring and the top can be swiveled to open and close it off to your preference. With a simple to build two post build deck and a deep juice well this RDA is perfect for your favorite mech or regulated device, and thanks to the bottom fed spare 510 pin, you can fit it on top of your squonk mod. With a very airy draw and a sleek looking design, the Baron BF RDA is a great addition to your vape collection.
Features:
24mm Diameter
28.8mm Height
Dual post deck for easy dual coil building
Standard 510 and BF squonk 510 pin included
One-piece airflow cap placed in a fixed position
Multifunctional airflow system allows easy adjustments
Airflow cover with retaining ring design to minimize leakage
Resin drip tip and PMMA drip tip included
510 thread connection
Stainless steel Material
Package includes:
1x Geekvape Baron RDA
1x 510 Drip Tip Adaptor
2x Clapton Coil(Ni80, 0.3ohm)
1x GV Flathead Screwdriver
1x Feather Cotton
1x 810 Drip Tip
1x Hex Wrench
1x User Manual
Spare Parts Pack
Write a Review
We verify all reviews are genuine. Please make sure your read our review policy before leaving your review.
Customer Reviews
Write a Review
Ask a Question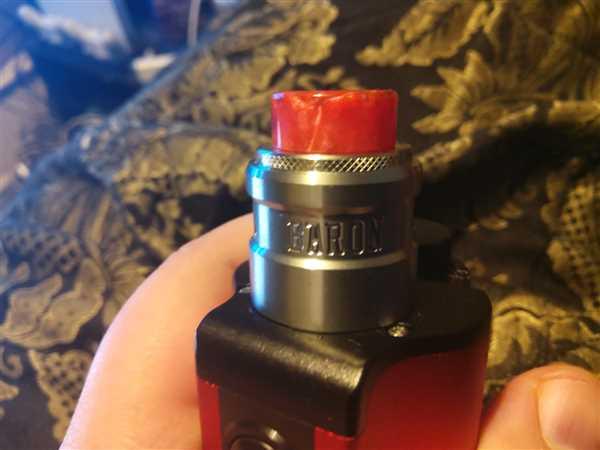 03/30/2020
Lots of airflow
Device machining is great the appearance I love and if u like vaping clouds this be a good cheap choice my only negative is really for new builder as it's a shared post clamp design it's a bit of a pain other than that a great rda
Joshua K.
United Kingdom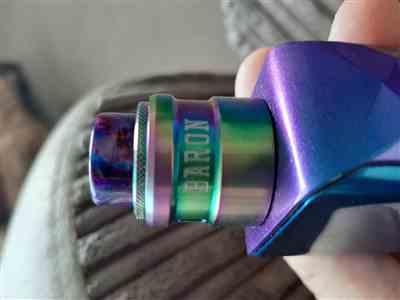 12/15/2019
Geekvape baron rda
This is my first rda and it's been easy to use and I'm finding it great compared to my rta. Would recommend to any first time users if an rda
Ashley H.
United Kingdom
06/03/2020
Bargain
Very good RDA for the price
Ian S.
United Kingdom
01/27/2020
Would buy again
Easy to use website, great price, simple process, delivered on time and well packed ~ what more could you ask for !
Andrew W.
United Kingdom
12/11/2019
Loving it
I got it in the sale, I'd been toying with getting it for a while and couldn't turn down the price, I can honestly say it would have been worth paying full retail price for it
John P.
United Kingdom