The CoilART Mage Resin RTA is a flavor machine. Using a smooth adjustable bottom airflow ring combined with a honeycomb airflow that sits under the coils, this RTA will give you a intense flavor hit from your favorite liquid. The build deck uses a "drop in" style dual coil build deck with wide enough holes for your chunky Clapton coil builds. The cotton sits nicely in the wicking chamber and once the top section is screwed down it allows for a smooth and regular flow of liquid to ensure your coil does not dry out on long hot pulls.
With a east top fill design, and a great looking mix of resin and stainless steel construction, the CoilART Mage Resin RTA will be the perfect companion for your favorite regulated mod.
Features:
Easy top re-filling
Dual coil postless build deck
Glass tank
Adjustable bottom airflow
20pcs 1.4mm diameter honey comb air hole
Resin + stainless steel construction
810 drip tip
510 threading connection
2ml Capacity 
28mm overall diameter
23mm inner diameter

Package contents:
1x MAGE Resin RTA 2019
1x Extra Glass
1x Accessory Bag
Write a Review
We verify all reviews are genuine. Please make sure your read our review policy before leaving your review.
Customer Reviews
Write a Review
Ask a Question
Filter Reviews:
flavour
wick
clouds
coil
Build
hell
RTA 2019 Tank
MAGE Resin
2019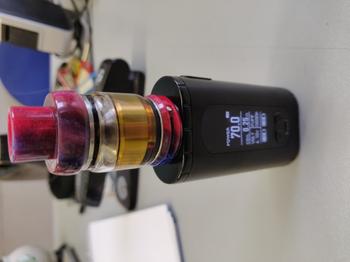 01/22/2020
Coilart mage 2019 rta
Easy to build on and really good flavour. Airflow is just right for me when fully open. Not too heavy on the juice either. Looks a bit on the large side but would probably look good on a bigger mod than my invoke. The red colour is a bit mad but no black in stock so I just use it when no one is looking. Overall a great rta and well worth it for this price. If they came back into stock in black I'd buy another.
Ronnie P.
United Kingdom
07/14/2020
coilart mage rta
not the prettiest rta, but its nice and smooth,lots of airflow and the flavors banging
steve c.
United Kingdom
07/11/2020
fantastic
been looking for something to replace my kylin v2 as its so leaky tried load of other rtas just didnt do it tell i tried this one perfect for me never leaks and so easy to coil and wick, i want another one but having trouble finding one i hope they are still been made.
lee
United Kingdom
01/04/2020
Brilliant
This tank is so good I bought another one! Once you get the wicking right the flavour is phenomenal
Daz
United Kingdom
05/15/2019
CoilART MAGE Resin RTA 2019
CoilART MAGE Resin RTA 2019 Tank is the best tank i've ever had - taste is awesome, very smooth and build is very easy to do single or double coil it - the choice is your's!