The Dovpo Clutch is a collaboration between Dovpo, Signature tips and Mike Vapes.
mod design as the basic platform, they have created this stunning bit of kit.
The Clutch is a mechanical box mod that runs off a single 21700 battery to give a better overall performance compared to a 18650.
The mod is machined from a sold brick of Aluminium with the internal plastic parts being 3d printed to spec. The body of the mod has a smooth high end feel with some amazing carves for fingers making it exceptionally ergonomic while the aluminium keeps the weight down. 
The internals of the Clutch are designed perfectly with brass parts, silver contacts and a buttery smooth 510 hybrid connection.
MikeVapes has included a handy locking system that can be accessed through the magnetic side panels, simply flick the switch to safe and the mod will not fire.
Overall the Dovpo Clutch is packed full of the quality and hard hitting performance you would expect from any high end device. This is perfect for fans of mechanical mods who want something a bit different is defiantly going to end up on alot of wish lists.
Features;
Solid Machined Aluminium Body
3D Printed Internal Housing
Silver Contacts
Hybred 510 Connection
Manual Locking Safety Feature
Takes x1 21700 Battery (Not Included)
Magnetic Side Panels
Individual Serial Numbers
Package Contents;
1x DOVPO Clutch Box Mod
1x Clutch Mod Tool
Write a Review
We verify all reviews are genuine. Please make sure your read our review policy before leaving your review.
Customer Reviews
Write a Review
Ask a Question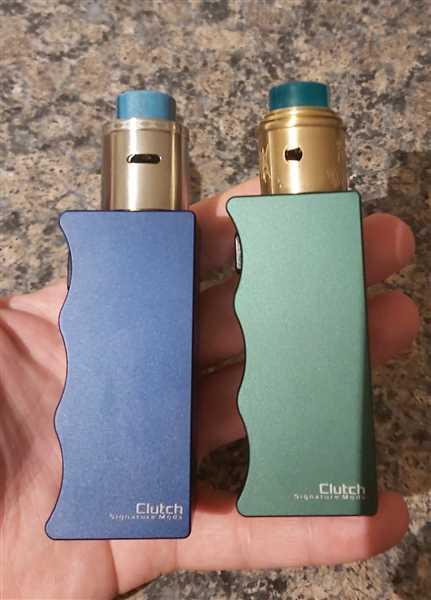 06/21/2020
Best mech I've had
Got blue already have green and red and black will definitely be following soon such a lot of mod for not a lot of money hard hitter and very well made
James R.
United Kingdom
05/15/2020
Clutch
Pocket rocket , love this mod , if your a mech fan , this is a must to your collection
Huw W.
United Kingdom
05/09/2020
Clutch
Excellent little device. Love it!
Ste K.
United Kingdom