The Springer S by Tigertek is an all new single coil RTA designed for flavour and featuring an all new screw-less deck, for easy rebuild able and recoiling in seconds!
With its outstanding build quality including gold plated deck to further improve build quality and flavour production.
Features:
24mm Diameter
2ml Capacity
Single coil configuration
Dual post build deck
Stainless steel construction
Screwless coil building system, get rid of screwdriver
Press the post down to install coil, easy to build
510 threading connection
Bottom adjustable airflow, direct to the coil for better flavor
Interchangeable springs for replacement
Package contents: 
1x Springer S RTA by Tigertek
1x Glass Tank
1x Accessory Bag
1x User Manual
Write a Review
We verify all reviews are genuine. Please make sure your read our review policy before leaving your review.
Customer Reviews
Filter Reviews:
price
coils
haze
loads
company
wick
tank
bubble glass
coil
air holes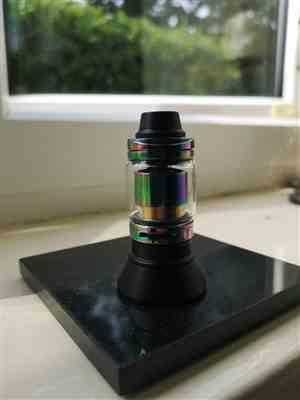 08/12/2019
Ok
Ok but no filling holes had to drill them out myself, ok tank but takes a lot of messing with, used this company for years, long story but won't use again.
Anonymous
United Kingdom
11/13/2019
My second one
Great tank. I bought a second one. Post springs are stiff but not much of a problem. Flavour is great, it doesn't leak and it's quiet. Recommended. Greyhaze were excellent as always.
Peter D.
United Kingdom
11/12/2019
Spring issue
The only issue is that it is very hard to put the coil in place because the spring is too strong, but overall the product is great.
Carl A.
United Kingdom
11/06/2019
Great rta and quiet
First thing, as many have reported, the spring posts are a bit of a pain being so stiff. However, the flavour is up there with the Aromamizer Lite. The air flow is really smooth and this is by far the quietest DL rta I own. Wicking is good and so far no leaks, spitback or gurgling. Very impressed. I just bought a second one.
Peterdc
United Kingdom
11/05/2019
This ones made well
The tank was very easy to set up, no post screws to worry about. I did think that would be a problem, holding the wires in, but they are very secure and the resistance did not alter at all with use. All in all a well built little tank and worth the purchase imo.
Andrew M.
United Kingdom