The Zeus X dual is the latest addition to the Zeus range. With a dual top airflow for great vapor production and flavor as well as providing a leak proof design, the Zeus X is the ideal RTA for any vaper.
The Zeus X features a new designed build deck for ease of use and access to trim wires, thanks to the chunky post holes the deck will accommodate a huge variety of coils. The Zeus X also has a upgraded top fill section to minimize spillage during the filling process.
Features;
24mm Diameter
2ml Capacity
Top Airflow
Top Fill
Dual Coil Build Deck
Detachable Inner Airflow Chamber
Package Contents;
1x Zeus X Dual RTA by GeekVape
1x Spare Glass
1x Accessory Pack
1x User Guide
1x Coils and Cotton
Write a Review
We verify all reviews are genuine. Please make sure your read our review policy before leaving your review.
Customer Reviews
Write a Review
Ask a Question
Filter Reviews:
flavour
delivery
airflow
products
Grey Haze
clouds
companies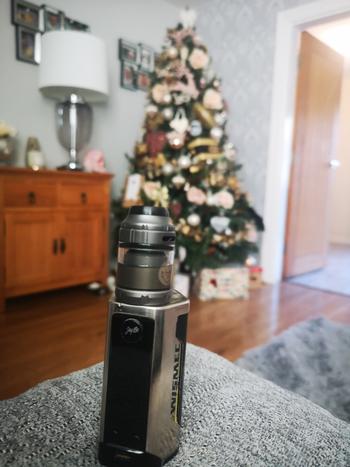 12/31/2019
Geekvape zeus x review
Price very reasonable, delivery quick and very happy with product. The zeus is a good rta, easy to build and lots of flavour and clouds
Andrew m.
United Kingdom
08/11/2020
OVERALL VERY GOOD
BEEN USING RDA FOR PAST 10 YEARS. FIRST RTA I HAVE PURCHASED. GOOD QUALITY. HIGHLY RECOMMENDED.
Samir M.
United Kingdom
07/22/2020
Great Rta
Great flavour easy build. A little thirsty but that's a good thing
Michael W.
Finland
06/13/2020
Great site
Very good would definitely recommend
Arthur B.
United Kingdom
11/13/2019
Good, convenient RTA
I'm usually disappointed by Geekvape RTAs, but I've read raving reviews for this one and since I was looking for a leak free top airflow RTA, I bit the bullet. Overall I'm happy with it and do not regret buying it, but it's far from perfect. Pros: - top airflow / leak free - quiet and good airflow adjustment - easy to build - the parts are easy to unscrew and tighten without need any force. - really easy to fill up with liquid - decent price (low 20 £'s) - clean look - both single and dual coil setup are easy to do Cons: - I expected flavor to be better. It's not bad at all but I can think of a few tanks that are on the next level. - grub screws didn't screw as smooth as the rest of the threading - no bubble glass and the tank isn't all that big because of the top airflow system - only this low profile drip tip. it's not uncomfortable to touch the metal with your lips but I still prefer a higher profile tip. - the bulid deck is rather small so multi wrap fancy wire coils will be tricky to do. I managed a 6 wrap 2x26g/40g fused clapton but had no room to space my coils as I like.
Jan
Belgium