With different internal airflow caps that you can swap in and out, top adjustable airflow and spacious dual or single coil build deck, the Kaees Solomon 3 is one of the most versatile RTA's on the market at the moment. 
The RTA itself is well made, with superb machining and threads for ease of use. The build deck can be mounted with one of two internal airflow caps depending on how you like to vape. So if you prefer wide open cloud builds or smooth restricted flavor chasing, you will find the perfect set up on this tank.
A simple top airflow ring allows you to adjust the flow even more and the wide cotton channels will help to ensure a smooth flavor packed vape every time.
Features;
25mm Diameter
2ml Capacity
Single or Dual Coil Deck
Interchangeable Airflow Caps
Top Fill locking Cap
Top Airflow
Package Contents;
1x Kaees Solomon 3 RTA
2x Internal Airflow Caps
1x Spare Glass Tube
2x Clapton coil
1x 510 Drip Tip Adapter
1x Screwdriver
1x User Manual
1x Spare Parts
Write a Review
We verify all reviews are genuine. Please make sure your read our review policy before leaving your review.
Customer Reviews
Write a Review
Ask a Question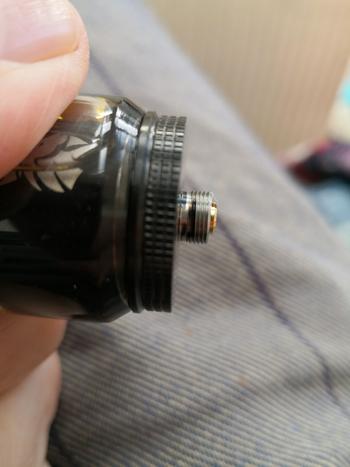 07/23/2020
Revised-Avoid
I initially gave this a pretty generous 4 stars because of its juice capacity and flavour, but it has issues. The little airflow dome that fits on the build deck doesn't fit, in my case. Also, the 510 pin is poorly machined and has paint all over it. (Guy at the shop tried to tell me it was machining oil, but I couldn't get it off with a wire brush, so it's paint.) Anyway, I was cleaning this thing so I could send it back and like an idiot, I dropped it in the sink and broke the bubble glass. Turns out you can't get a replacement in the UK. Have to order from China. So one of the two good qualities this thing had is ruined, and I obviously can't get a new airflow dome either. I'd have to buy a new tank. Not impressed.
John
United Kingdom
07/13/2020
Tricky but great capacity
I'm torn about this one. With the bubble glass, it holds 5.5ml of liquid, which makes it fantastic for carrying all day. Also, wicking is straightfoward and I'm getting really good flavour. There are two annoyances: the little airflow cap can be very difficult to fit onto and remove from the build deck. This could be down to sample variation, but it makes me dread rebuilding. The other is that the knurling on the juice fill cap and the airflow control are very similar and right on top of each other, which makes it hard to open the AFC without partially unscrewing the cap. Still, given how few great top-airflow tanks are out there, I'm pretty pleased with it.
John N.
United Kingdom
06/16/2020
Solomon 3 RTA
Easy to build,, good vape and leakproof. Being picky the caps can be a bit fiddly and the threads are a bit crunchy. Overall very good RTA
Fiona W.
United Kingdom