The Ardent is a stunning 27mm RDA designed by TenaciousTXVapes that features a removable 510 so you can fit it direct to your dreamer mod, replacing the regular hybrid top section.
Simply remove the 510, unscrew the base plate and fit directly to the dreamer tube. There is no need to re install the 510 pin as when in hybrid mode, the RDA has a flat fitted copper contact point.
If you do not own a dreamer then the Ardent still looks stunning on top of any 510 connection thanks to is smooth design and great selection of colours. The Airflow is sensational and the all round build of this RDA makes it a stand out among sub £30 the market as one of the best dual coil rebuildables.
The build deck uses a spring loaded clamp system for your coils, allowing you to place them and line up easily before clamping tight. With the deep juice well, once you get the cotton length figured out, in place and juiced up, you will be surprised by how many pulls you can take before it needs a drip.
The Ardent is designed for dual coil use and does not have a inner a option to adjust the airflow to a single coil mode. This RDA is designed for full on cloud chasing and mind blowing flavor.
Features;
27mm Diameter
Removable 510 for Direct Threading on the TimesVape Dreamer Mech
Spring Loaded Build Deck
Deep Juice Well
Barrel Lock System
Smooth Honey Comb Side Airflow
Package Contents;
1x RDA
1x PEI 810 Drip Tip
1x Frosted 810 Drip Tip
1x Accessory Bag 
1x User Guide
Write a Review
We verify all reviews are genuine. Please make sure your read our review policy before leaving your review.
Customer Reviews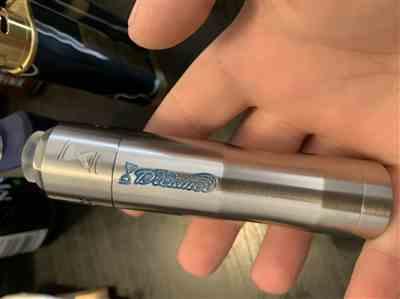 11/05/2019
Best Delivery time in all of UK!
Excellent service and fastest delivery I ever tried from UK to dk
KB
Kenny B.
Denmark
01/13/2020
Real nice RDA
A real nice RDA which is easy to build on and has a massive juice well, performs at its best when with the dreamer stacked mech.
Bradley E.
United Kingdom
06/25/2019
Great rda
Ardent rda is a great rda that is nice and airy and has a unusual deck but easy to build on and fits the dreamer perfectly.
Ciaran O.
United Kingdom