Grey Haze Basics - Blueberry Tart - 50ml Short Fill
Introducing Grey Haze Basics E-Liquid! The best flavours, at the best prices. 
BLUEBERRY TART is a fruity blueberry jam with pastry base type flavour.
Write a Review
We verify all reviews are genuine. Please make sure your read our review policy before leaving your review.
Customer Reviews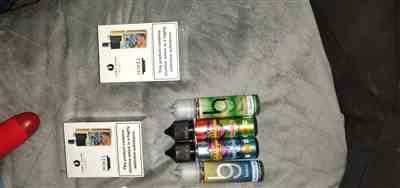 01/04/2020
Scrumptious Blue Tart
This is what it should have been called!
Dominic R.
United Kingdom
01/18/2020
Adelle O.
United Kingdom
05/11/2018
Unbelievable
So I visited greyhaze digbeth store and customer service was excellent : from the point of entry to the store I received a very warm welcome and greeting,very professional and high standard. I used to buy pancake which is a great but with the help of a team member I picked blueberry tart and its 10 times better than pancake in my opinion. Thank you greyhaze for helping me discover this fantastic flavour . :) Much love <3