The Orion Q Pro is the next generation of the Q series and Lost Vape have made some great improvements.
The Q keeps the same comfortable compact shape and great 950mAh battery, but now comes with 5 power adjustments up to 24w and the ability to use multiple coil options unlike the previous Q that could only use one.
The Q pro is compatible with lost vapes 0.25, 0.5 and 1.0 ohm replaceable coil heads as well as the old 1ohm Q pods and the DNA, 0.25 & 0.5ohm pods. So If you prefer a tight MTL or a flavor packed DTL, there is a coil or pod option for you.
The power setting can be changed using the button above the USB port. The power setting is shown by the LED light on the side of the mod, so once you chose your perfect coil or pod, you can adjust it to hit lower or higher depending on the OHM.
Like the rest of the Orion range, the Q Pro has an adjustable airflow ring under the mouth piece. Closed off it gives off a smooth mouth to lung draw and wide open a fantastic restricted direct to lung hit, all while maintaining the flavor and nic hit from your chosen liquids.
True to Lost Vapes current MO, the Q Pro comes in a pile of different colour and pattern options, with the classic carbon fiber style weave, honeycomb and abalone options making a comeback. This time round Lost Vape have also included some beautiful stab wood versions as well, so if you want something a little more fancy and unique, then make sure to grab one of those! 
If you were a fan of the old Orion Q but always thought it could give a little more....then you are going to love the Orion Q Pro.
Features:
950mAh Internal Battery
Micro USB Charging
LED Power and Battery Life Indicator
Wattage Adjustment Button

Up to 24w
Small Compact Design
Compatible with 0.25, 0.5 and 1ohm Orion Coils
Compatible with 0.25, 0.5 and 1ohm Orion Pods
Top Fill Pod Design
Top Airflow Adjustment Ring
MTL or Restricted DTL Inhale
Package Contents:
1x Lost Vape Orion Q Pro Mod

1x 0.5 Ohm Pro Coil
1x Micro USB Cable
1x User Guide
1x Lanyard 
Write a Review
We verify all reviews are genuine. Please make sure your read our review policy before leaving your review.
Customer Reviews
Write a Review
Ask a Question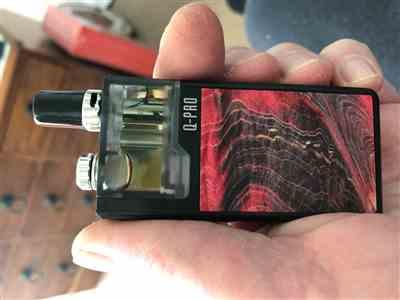 11/30/2019
Q pro
I have the standard Orion DNA and had the original Q but gave that to the better half. Liked the stabwood look of the new DNA but didn't like the price. So I saw the Q pro on Grayhaze at a very competitive price. I'm using this one more than my original DNA. Great new 1.0 ohm coil and five power settings. Plus it takes all the coil options. Love it and service from Greyhaze as ever is brilliant, many thanks.
Derek L.
United Kingdom
05/18/2020
Lost Vape
This is my new favourite vape! It's small compact and still produces great clouds and flavours! The battery on this small vape is great as-well! Only downside is the coils 0.5 and 1.0 coils are awful they don't really produce good flavour and they burn out easily. But the 0.25 Mesh coils are fantastic on these!!! I bought 25 of them ( flavour and clouds on point great for MTL aswell)
02/24/2020
Great service.
Excellent service from GreyHaze. Order took no time at all too arrive and the device I bought is great. I will definitely be using them again.
Brian W.
United Kingdom
12/09/2019
Lost Vape orion q pro
Stunning kit, im a big user of the old orion q i didnt think the flavour would get any better, but the 1.0ohm coil has knocked me away. A HUGE improvment in flavour, still great battery life and multiple power settings when you need a kick. super fast delivery also. A+
Matty78
United Kingdom