Shortcakes by A Final Course Short Fill 100ml
In need of a treat? Order up a flaky, sweet shortcake layered with strawberry glaze and a light, fluffy dollop of whipped cream.
100ML 
70/30 VG/PG

QuickNic Ready =  Ratio ready bottle, designed for use with QuickNic, not suitable to vape without pouring in a QuickNic bottle to reach desired Nicotine Strength, QuickNic sold separately. 3MG is the maximum Nicotine level that can be reached. 50ml bottle; 60ml after QuickNic is used.

QuickNic Ratio Guide:

30ml requires 1/2 bottle of QuickNic
60ml 

requires

 

1 full bottle of QuickNic
120ml 

requires

 

2 full bottles of QuickNic
The above will result in a 3mg formulation
Write a Review
We verify all reviews are genuine. Please make sure your read our review policy before leaving your review.
Customer Reviews
Write a Review
Ask a Question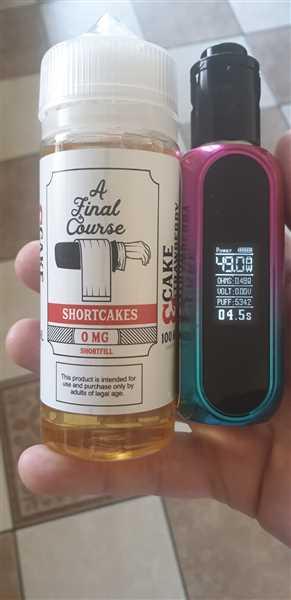 04/14/2020
Vape juice
Brilliant website and excellent value, i will be shopping there again.
Martin K.
Ireland
04/15/2020
A Subtle DD
It's the tase equivelent of a nice background noise.
Nicholas B.
United Kingdom
04/02/2020
Nice Flavour
A nice all day vape that is not too sweet or sickly. Would consider buying it again in the future.
Bob A.
United Kingdom