The Wotofo Profile 1.5 is the upgraded version of the popular RDA.
The profile has been designed to provide a stronger and richer flavor from your vape making it a flavor chasers dream RDA.
The build deck uses the same concept as the old RDA with the spring loaded screw down ceramic plates to provide amazing contact, and a slight curve in the bottom for cotton placement, however this time round Wotofo have scaled everything up, to allow for the larger NexMesh coils to be fitted and providing a better vape experience.
The Profile 1.5 also offers 3 different airflow configurations that can be adjusted by rotating the top cap.
They have also taken squonking in to account and designed the ceramic base with ridges so the juice flows evenly to both sides of the cotton wells.
The Profile 1.5 is not compatible with the old mesh coils due to the scale up in size of the deck. Instead they have released 3 different coils, the mesh chill, the mesh turbo and the mesh extreme to fit in the RDA.
Features;
24mm Diameter
510 or Squonk BF compatible
Single Mesh Coil Build Deck
Stainless Steel Construction
3 Airflow Options
Replacement Mesh coils available HERE
Package Contents;
1x Wotofo Profile 1.5 Mesh RDA
1x nexMESH Chill 0.15ohm Coil
1x nexMESH Turbo 0.13ohm Coil
1x nexMESH Extreme 0.16ohm Coil
3x Cotton Strands
2x 510 Drip Tips
1x User Guide
1x Accessory Pack
Write a Review
We verify all reviews are genuine. Please make sure your read our review policy before leaving your review.
Customer Reviews
Write a Review
Ask a Question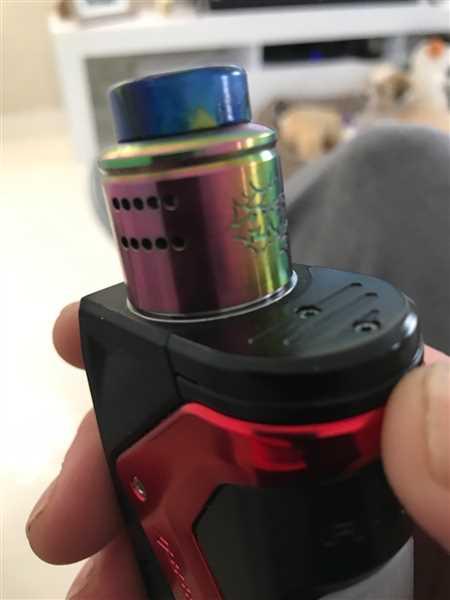 03/28/2020
Nice rda
First time trying a mesh rda and really liked it easy build nice air flow flavor is brilliant
David B.
United Kingdom
04/01/2020
Recommend
Easy built and great flavour. The best mesh RDA!
Nina
Ireland
03/22/2020
Wow
Iv just got into using mesh tanks and they are really good and easy to build
Reece C.
United Kingdom
02/15/2020
Excellent!
Great piece of kit at an excellent price
Daniel B.
United Kingdom